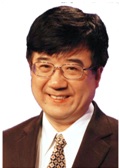 Key Technology Challenges for 5G and Beyond
Huawei Fellow, IEEE Fellow
Chief Technology Officer, Wireless Network
Huawei Technologies Co., Ltd., China
As 5G became a global-scale dominant mobile technology to drive the digital transformation for all business and industries, the implementation and development of 5G network infrastructure to meet all the requirements for 5G defined by ITU remains a technology challenge. In this talk, we present the open issues and state-of-art solutions in the three key use-cases for 5G: (1) emBB (2) URLLC (3) mMTC; unlike the previous generation of wireless networks, 5G will address the diverse technologies spanning from cellular frequency to mmWave frequency, from global coverage macro-cell networks to hot-spot UDN, from consumer based internet access to industrial grade cyber-physical tactile internet, from purpose designed networks to software defined virtualized networks. These challenges will continue to drive the landscape for 5G and beyond, as such, we will present a deep-dive into two enablers, i.e., spectral efficiency and end-to-end network slicing.
Dr. Wen Tong is the Huawei Fellow, CTO, Huawei Wireless. Since 2010, Dr. Tong has been the vice president of Huawei wireless research. In 2011, he was appointed the Head of Communications Technologies Labs of Huaiwei. Currently, he spearhead to lead Huawei's 5G Wireless technologies research and development.
Prior to joining Huawei in 2009, Dr. Tong was the Nortel Fellow and global Head of the Network Technology Labs at Nortel. He joined the Wireless Technology Labs at Bell Norther Research in 1995. He had pioneered fundamental technologies from 1G to 4G wireless with 350 granted US patents.
Dr. Tong was elected as a Huawei Fellow and an IEEE Fellow. In 2014, he was the recipient of IEEE Communications Society Industry Innovation Award for "the leadership and contributions in the development of 3G and 4G wireless systems".
Dr. Tong serves as Board of Director of WiFi Alliance and he is the Fellow of Canadian Academy of Engineering.