how to get to Crowne Plaza-YangZhou
Route
If you arrive at Nanjing Lukou Airport, You can take the airport shuttle bus (9:50 am - 10:30 pm) to Yangzhou west railway station. It takes about two hours and costs 65 yuan (RMB). Then you can take bus 88 or 89 bus to Wenchang bridge station. The right that is.
If you arrive at Yangzhou west railway station, you can take the bus to the hotel according to the route 1.
If you arrive at Yangzhou Airport, You can also take the airport shuttle bus to Jiangdu east station. Then take bus 88 to the hotel.
Yangzhou Beautiful Scenery
1. Shouxi Lake
A famous garden on the lake in China and a scenic spot with national 5A level. With attractive scenery of landscape groups and the combination of delicacy in the south and majesty in the north as a whole, Shouxi Lake formed the basic pattern in the Kangxi and Qianlong period of the Qing Dynasty, gaining the reputation of 'the most prosperous garden among the all and ranking top in the world'. As an old saying goes, there are thirty-six west lakes in China, but only the West Lake in Yangzhou is different from the others for its unique charm. Compared with the West Lake in Hangzhou, Shouxi Lake possesses a kind of slim charm.
Shouxi Lake is named after the poem written by Wang Hang who was burn in Qiantang in the Qing Dynasty and since then renowned both at home and abroad.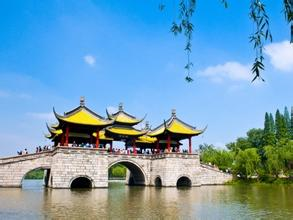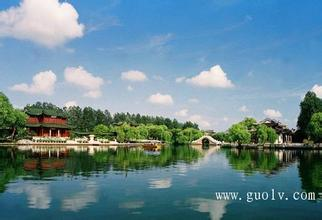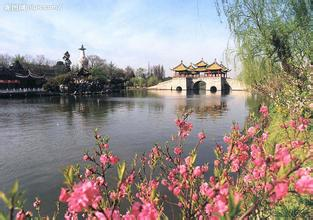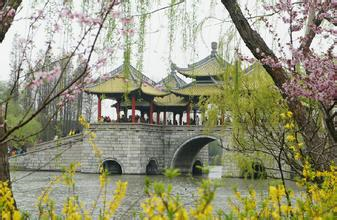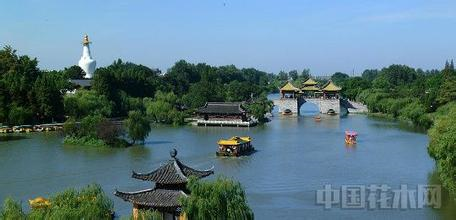 2. Geyuan Garden
One of the four famous gardens in China. With its strict structure and novel purport, Geyuan Garden is an isolated case of garden in China as well as one of the most prestigious landscape in Yangzhou. It is a famous landscape in the Chinese garden known for the stacked stone and is superior than other gardens for its bamboo stone. Its name Ge is adopted by taking half of the Chinese character Zhu to comply with all kinds of bamboo growing all over in the garden.
The fold stone art in Geyuan garden adopts the peak stone technique by using different stone materials to stack four kinds of scenery namely spring, summer, autumn and winter. The four-season rockery are distinctively expressing as 'spring scenery is pretty and coquettish like laughter, summer hills are green like water-drop, autumn mountain is clear like makeup, winter scene is dismal like a deep sleepí». Also can be depicted poetically as 'hill is favorable for travel in spring, view the hill in summer , climb the hill in autumn and in winter hill is livable'.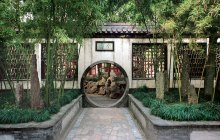 3. Heyuan Garden
Known as the first and foremost garden in the late period of Qing Dynasty. It is also called Jixiao Villa which comes from the poem wrote by Tao Yuanming and built by He Zhidao in the Guangxu of Qing Dynasty. The original location of Heyuan Garden is called Shuanghuai Garden, an ancient garden built at the time of Emperor Qianlong. Nearly a hundred drama series took shots here, for example A Dream of Red Mansions, the sequel of Princess Huanzhu, Haven Has Tears, etc.
4. Daming Temple
At the fist year of Emperor Tang Tianbao in administration, the famous monk Jian Zhen taught scripture and discipline in this temple before he traveled east to Japan, making this temple well-known in the world. In the Tang Dynasty, master Jian zhen served as the abbot of Daming Temple, enabling Daming Temple as an important ancient temple for Chinese-Japanese relationship history of Buddhist cultural relics.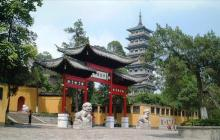 5. Yangzhou Grand Canal
Refers to the reaches from Zhuyuwan Scenic Spot to Gaomin Temple. The main visiting area focuses on South Gate Dock to Bianyimen Square Dock in Yangzhou downtown. Along the road are some famous scenic spots such as the historic district in Dongguan Street, tourists can visit by boat or go on foot to view the beautiful night scene as lights turned on at night igniting the grand canal.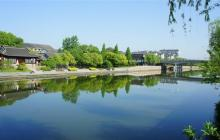 6. Dongguan Street
A main street paved by blocks of stones. Waling on the street, the courtyards owned by salt merchants are built by green bricks and gray tiles and can be seen from time to time. It is the most representative and historical street in Yangzhou, gathering delicious food and local specialties at one hand and adding more fun in shopping for tourists on the other hand. Locating on the east end of the street is Dongguan Gu Du which is the most prosperous dock in Yangzhou at the Tang Dynasty. The dock enabled the development of intensive business and thus led to the formation of Dongguan Street. So far, the Dongguan Street still maintains its appearance formed in the Ming and Qing Dynasty.
Lotus Glutinous Rice Balls, Sixi Glutinous Rice Balls, Dumpling Noodles, Huangqiao Sesame Cake, Boiled Shredded Dried Bean Curd and Stewed Meatball can be found and eaten in Dongguan Street. Some restaurants are open in the old courtyard, for instance Jiangnan Yi Pin Zhonghan Mansion (Dongguan Street No.312) selling private home-made cuisine mainly is located in the resident that used to live by Hu Zhonghan, a banker at the time of republic of China (1912-1949).
For shopping, it is not surprising that most of the superb and small shops in the street have a history of more than hundred years. Such as Xie Fuchun (Dongguan Street No.243) built in 1830 and Simei Sauce Garden built in 1817, etc.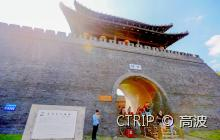 Yangzhou Cuisine
Yangzhou is the birthplace of Huaiyang cuisine which is one of the four culinary traditions in China. This style of cuisine pays attention to the taste and precise control of the fire. It is adept at stewing and simmering, tasting light and delicious with moderate sweet and salt. Thus famous for eating in Yangzhou in the history.
Yangzhou chef is remarkable for its fine knife work, especially good in carving the food. Therefore, kitchen knife is one of the well-known three kinds of knives in Yangzhou. Yangzhou cuisine is represented by Three Heads, namely Braising Silver Carp Head, Burn Pig Head, Stewed Large Meatball with Crab Meat.
Boiled Shredded Dry Bean Curd exemplifies the fine knife work of Huaiyang cuisine. Three Sets of Duck is made by hiding pigeon in the stomach of mallard and then hiding the mallard in the stomach of home-raised duck. Cooked in this way , the mallard smells fragrant and the pigeon tastes thin and crispy. Three Head Feast, Honglou Feast together with Full Lotus Feast are called as Three Most in Yangzhou cuisine.
Yangzhou refreshments are also prestigious, for instance Yangzhou Shredded Dry Bean Curd, Steamed Bun Stuffed by Crab Meat, Yangzhou Fried Rice, etc. The top ten well-known refreshments in Yangzhou are listed as follows: Steamed Bun Stuffed by Three Materials, Multiple-layer Oil Cake, Shuangma Crispy Biscuit, Feicui Dumplings, Steamed Bun Stuffed by Dried Vegetable, Steamed Bun Stuffed by Wild Vegetable, Glutinous Rice Dumplings, Steamed Dumplings Stuffed by Crab Meat, Cheao Dumplings, Chicken Meat Juanzi.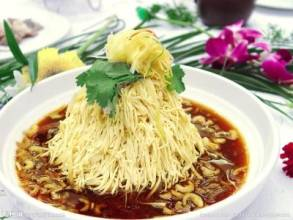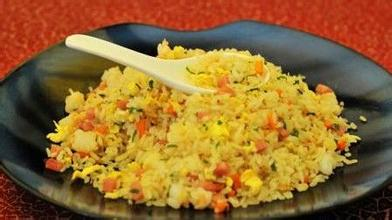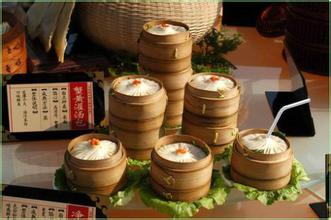 Shredded Dry Bean Curd Yangzhou Fried Rice Steamed Dumplings Stuffed by Crab Meat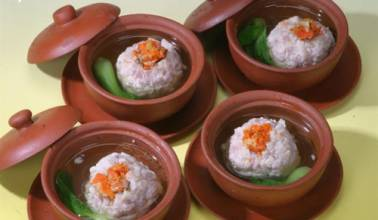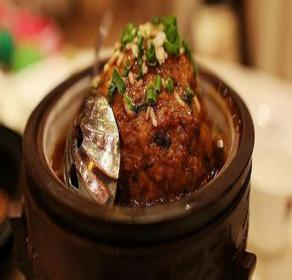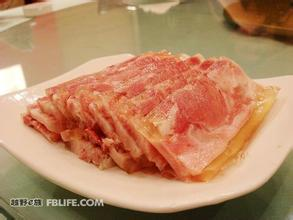 Stewed Large Meatball with Crab Meat Large Meatball Cooked by Bean Sauce Alpha-fa Meat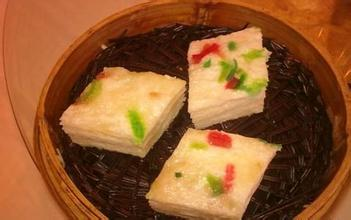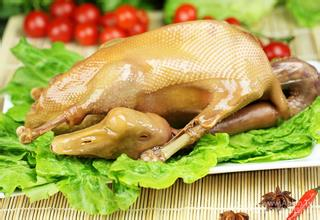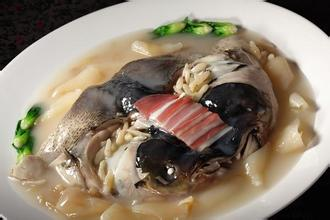 Multiple-layer Oil Cake Yangzhou Old Goose Marinated by Salt Braising Silver Carp Head
Shopping in Yangzhou
1. Three kinds of knives in Yangzhou
The well-known three kinds of knives in Yangzhou are kitchen knife, foot-repaired knife and hair-cut knife. The three knives in the hands of people in Yangzhou is not only a technology but also a form of art, performing as a unique part of the local characteristics of Yangzhou culture.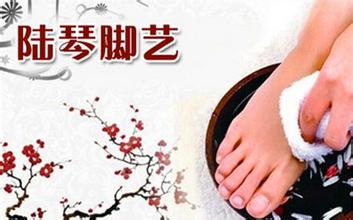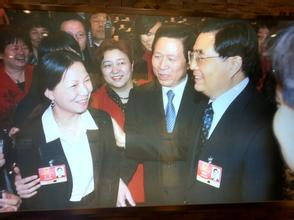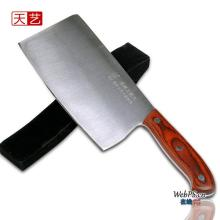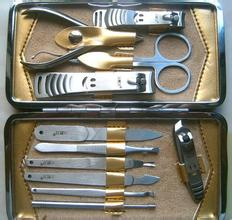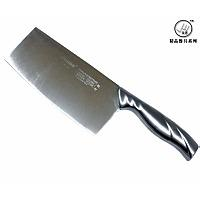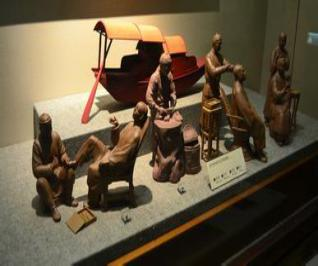 2. Yangzhou Lacquerware
Yangzhou lacquer-ware is one of the traditional Chinese arts and crafts. Originated in the Warring States period, flourished in the Han and Tang Dynasties and reached its peak in the Ming and Qing Dynasty, Yangzhou lacquer-ware is famous both at home and abroad for its complete process, exquisite craftsmanship and unique style. In the Tang Dynasty, Yangzhou lacquer-ware was spread to Japan by master Jian Zhen. It was not until the Ming and Qing Dynasties that Yangzhou became the lacquer-ware crafting center around the nation in vogue for a time. Yangzhou lacquer-ware participated in the international exposition in 1910,1915 and 2001, wining the gold medal three times.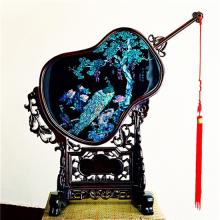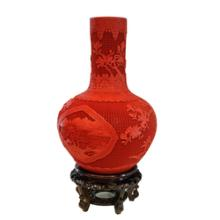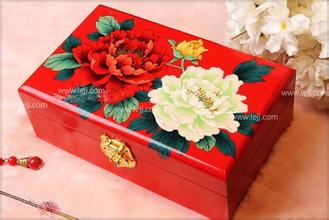 3. Yangzhou Jade Carving
Since the Ming and Qing Dynasties, Yangzhou has become one of the three places in China famous for jade carving techniques. It has been narrated in the ancient book called The Book of History Chapter Yugong. In the middle of Qing Dynasty, Yangzhou became the national center for jade carving. In the period of Emperor Qianlong of the Qing Dynasty, Yangzhou jade carving entered its heyday. The salt administration in charge of the north and south areas of the Huai River built up jade bureau in Yangzhou Jianlong Temple,undertaking large amounts of royal jade-ware and paying tribute to the imperial court annually. Dozens of boutique has been awarded both internationally and domestically, or treasured by the state as a collection.
4. Yangzhou Plush Toy
Yangzhou is the largest plush toy producer in China. The plush toys produced in Yangzhou occupies 90% of the national market. It is also the largest export base of plush toys in China. The mascot of 2004 Olympic Games and the mascots of 2008 Beijing Olympic Games, known as Fuwa series, are made by Yangzhou.