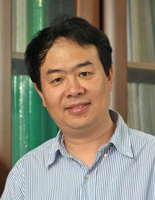 On behalf of the executive committee, it is my great pleasure to invite you to participate in the 2012 International Conference on Wireless Communications and Signal Processing (WCSP 2012), which will be held in the Huangshan (Yellow Mountain) city, Anhui Province, China, on Oct. 25-27, 2012.
WCSP is an annual International Conference on Wireless Communications and Signal Processing (WCSP). The aim of the conference is to provide an international forum that brings together researchers from academia and practitioners from industry to exchange advances in recent research work on all aspects of wireless communications and signal processing. With the support of all participants, the past three events of the conference have been very successful. We are now organizing WCSP 2012, the fourth event of the conference, which has obtained the technical co-sponsorship of the IEEE and IEEE Communications Society. The executive and program committees of the conference are working hard to develop a high-quality technical program and make the conference a greater success. You are cordially welcome to participate in and contribute to the conference in your valuable role.
Huangshan (Yellow Mountain) is the most beautiful mountain in China and is included in the World Heritage List as a both natural and cultural heritage. It is one of the world¡¯s premier tourist destinations and attracts tens of millions of visitors from all over the world every year. The Huangshan city has a long history and is well known over the world for its famous Huizhou culture. There are many tourist attractions around the city, such as Tunxi Old Street, Xidi and Hongcun, and Wuyuan Village. I hope that you will take this opportunity to visit the beautiful Yellow Mountain and historic Huangshan city, and enjoy the amazing mountain scenery and Huizhou culture after the conference.
Thank you. I look forward to welcoming you in Huangshan in October 2012!
Prof. Xiaohu You
General Chair, WCSP 2012
Southeast University
P. R. China